Fácil de Especificar

Fácil de pedir

Rápido de montar
Por Interclamp?
Confíe en el genuino Interclamp®
Diseñado para la erección rápida y fácil de estructuras rígidas con las herramientas mínimas. Interclamp es un sistema rentable y eficiente, especialmente en comparación con los métodos tradicionales de construcción, como la soldadura, donde se requieren herramientas especializadas y una amplia capacitación.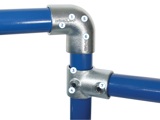 1
ACABADO
GALVANIZADO DE
ALTA CALIDAD
Los componentes Interclamp® están galvanizados por inmersión en caliente según BS EN ISO 1461: 2009, lo que proporciona un acabado resistente a la corrosión para una vida útil prolongada.
2
MARCA
RECONOCIDA
Cada accesorio lleva la reconocida marca Interclamp® como un signo de calidad y para ayudar a la trazabilidad.
3
CONSISTENCIA DEL
PRODUCTO
Las técnicas de producción óptimas y los estrictos controles de calidad garantizan un producto confiable y consistente.
4
RESISTENCIA DE
VIBRACION
Los accesorios Interclamp® han sido sometidos con éxito a rigurosas pruebas de resistencia a la resistencia a la vibración por un laboratorio de pruebas independiente acreditado.
5
INTERCLAMP®
DOBLE
RECUBRIMIENTO
Los accesorios Interclamp® presentan un revestimiento secundario sobre el galvanizado por inmersión en caliente para mejorar la protección contra la corrosión y prolongar la vida útil del producto. Esto le da a Interclamp® el beneficio de un acabado estético y de calidad superior.
6
FÁCIL
IDENTIFICACIÓN
Cada accesorio está claramente marcada con el tipo y el tamaño para facilitar su identificación.
7
TORNILLOS DE
ACERO INOXIDABLE
Para mayor resistencia a la corrosión.
8
PRUEBAS DE
PRODUCTO
La gama principal de accesorios Interclamp® ha sido probada y aprobada por TÜV Rheinland, la casa de pruebas independiente líder en el mundo. Otras instalaciones de prueba independientes también realizaron evaluaciones de resistencia a la vibración y pruebas de carga.
1
HIGH QUALITY GALVANISED FINISH
Interclamp components are hot-dipped galvanised to BS EN ISO 1461:2009 giving a corrosion resistant finish for an extended life.
2
RECOGNISED
BRAND
Every fitting carries the recognised Interclamp brand as sign of quality and to aid traceability.
3
PRODUCT CONSISTENCY
Optimal production techniques and stringent quality controls ensure a reliable and consistent product.
4
VIBRATION RESISTANCE
Interclamp fittings have been successfully subjected to stringent vibration endurance resistance tests by an accredited independent test laboratory.
5
INTERCLAMP DOUBLE COATING
Interclamp fittings feature a secondary coating over the hot-dipped galvanising to enhance corrosion protection and to extend the life of the product. This gives Interclamp the benefit of a premium quality, aesthetically pleasing finish.
6
EASY
IDENTIFICATION
Each fitting is clearly marked with the type & size for ease of identification.
7
STAINLESS STEEL SCREWS
For increased corrosion resistance.
8
PRODUCT
TESTING
The core range of Interclamp fittings has been tested and type approved by TÜV Rheinland, the leading worldwide independent test house. Additional vibration resistance assessments and load tests have also been conducted by other independent test facilities.