Fácil de Especificar

Fácil de pedir

Rápido de montar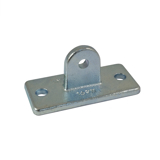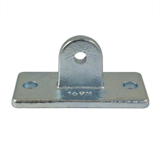 169M - Conector de pared giratorio
Un accesorio giratorio versátil, útil para la fijación de tubos en ángulo a paredes, etc. Los orificios de fijación se adaptan a una amplia gama de anclajes de mampostería mecánica y química comunes que deberíamos cotizar a pedido. nótese bien Este accesorio está disponible en un solo tamaño para adaptarse a todos los tamaños del tipo 173F.
Advertencia: Para proporcionar suficiente estabilidad, no se deben hacer estructuras completas solo con accesorios giratorios.
A versatile swivel fitting, useful for fixing angled tubes to walls etc. Fixing holes suit a wide range of common mechanical and chemical masonry anchors which we should be pleased to quote for on request. N.B. This fitting is available in one size only to suit all sizes of type 173F.
Warning: To provide sufficient stability, whole structures must not be made from swivel fittings alone.
De datos del producto y dimensiones
| | | | | | | | |
| --- | --- | --- | --- | --- | --- | --- | --- |
| Tamaño | b (mm) | c (mm) | d (mm) | Hole Dia (mm) | Peso (kg) | Box Qty* | Part No |
|   - |   112 |   85 |   32 |   11 |   0.37 |   100 |   169M |
* Fittings are sold individually and do not need to be bought in box quantities. Box quantities may be subject to change without prior notice.
Figures given as guidance only, dimensions and weights are subject to manfacturing tolerances and may be altered without prior notice.
Do not perform any pre-drilling, tube cutting, casting uprights or any other dimensionally critical processes prior to receiving fittings.